Fluoride in Irish Water
Our water supply has been supplemented with fluoride for years, despite the fact that controversy still rages about its safety. Countless studies point to evidence that it is not only unnecessary, but can also be dangerous to your health.
Fluoride Water Filters
Fortunately, there is a simple solution. A Clean Water fluoride water filter will eliminate fluoride and other toxins from your drinking water, providing you with a safe and healthy supply of drinking water at an affordable cost.
Prevent The Onset of Dental Fluorosis
A Cleanwater fluoride water filter will help to prevent the onset of dental fluorosis, a condition that results in brown, pitted teeth. Dental fluorosis occurs as a direct result of ingesting fluoride through drinking water and other sources.
Other studies point to the fact that fluoride in water is both a carcinogen and mutagen.

Clean Water Fluoride Water Filters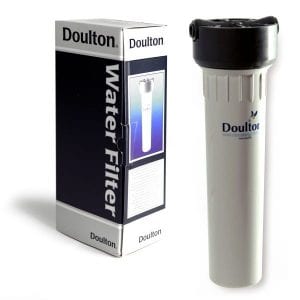 Quick View
Cleanwater Combi Filtration System
This superb product has become our most popular over the past few years:
It combines the quality Doulton undersink filter with an extra filter alongside to remove fluoride from your tap water.
This filter really gives you peace of mind by removing contaminates such as chlorine, e.coli, chemicals as well as fluoride & lead
You will instantly taste the difference and unlike some filter systems it won't remove good minerals found in tap water.
Fitting service available
This filtration system comes with all the parts and fittings required including:
Doulton filter and housing
Fluoride filter and housing
Fully chrome drinking water tap
Stainless steel easy shut off valve
John Guest push fit connections and tubing
Fitting instructions & phone support offered if fitter/plumber has any questions
Doulton filter spec:
Pathogenic bacteria: Cholera, Typhoid, Shigella, E. Coli, Klebsiella Terrigena >99.99% removal
Cysts: Cryptosporidium Parvum, Giardia Lamblia >99.99% removal
Sediment: Down to 0.9 micron absolute; 0.5 – 0.8 micron with a filtration efficiency of >99.99%
Trace Organics Removal – Insecticides: Lindane @ 0.1 ppb presence >85% removal
Trace Organics Removal – Herbicides: Atrazine @ 1.2 ppb presence >85% removal
Trace Organics Removal – Phenols: TCP @ 1.2 ppb presence >50% removal
Trace Organics Removal – Polyaromatic Hydrocarbons: PAH's @ 0.2 ppb presence >95% removal
Trace Organics Removal – Trihalomethanes: Chloroform @ 150 ppb presence >50% removal
Inorganics Removal – Free Chlorine: 2mg cl/l challenge >97% removal NSF Class 1 standard 42
Lead removal – 98.3% NSF Standard 53 
Housing Spec:
305mm high, 70mm wide
3/8″ Push Fittings
FLUORIDE FILTER, REDUCES/REMOVES:
FLUORIDE

HYDROGEN CHLORIDE
HYDROGEN SULFIDE
CARBONYL SULFIDE
CARBON DIOXIDE
INGORANIC ARSENIC
ALCOHOLS
ETHERS
SPECIFICATIONS:
MICRON RATING
DIMENSIONS 255 X 63mm
DESIGN FLOW RATE 0.1GPM
OPERATION TEMPERATURE 40F-100F DEGREES

FILTER

 MEDIA ACTIVATED ALUMINA
FILTER
 LIFE 4,500MG/L OR 260 GPG Tap spec:
Height 205mm Reach 150mm Stud length 75mm 3/8″ Push Fittings