The Clean Water Company supply and fit Water Filters, Water Coolers and Fluoride filters into homes and businesses throughout Ireland.
These superb water filters are currently sold and used in over 150 countries worldwide. They are used daily by Embassies, Unicef, Oxfam and League of Red Cross. Our drinking water filters also provide clean, safe drinking water to millions of households everyday.
Clean Water Founder – Daniel Downey
After finishing my education in Dublin my main interest was always in the environment, health and in particular the quality of our drinking water. This subject to me is huge as water is the most important thing that we put into our bodies. The quality of our drinking water should be the first thing we think of when moving into a new house or workplace, but often it is overlooked and left on the long finger, why? Recent studies have found microplastics in tap and bottled water, we don't know how long bottled water is lying stagnant in plastic bottles for. We know our tap water takes a journey through disinfectants and lead pipes. Our standard system starts from just 195 euro supplied providing fresh, CleanWater all year round.
When the opportunity came up to work for an Irish Water Filtration Company I jumped at the chance. However I always felt that the product I was selling was not the answer. It removed all the healthy minerals, it used electricity and for every litre it filtered a litre of water was wasted. I moved on to Spain to work with Europe's leading water filtration company. They were using a more natural system that removed contaminates but let in the good minerals with no wastage or electricity. Not only was it a fraction of the price it was actually a better system in that it removed all harmful bacteria, chemicals, metals etc. but it did not remove the essential minerals and does not require maintenance except a filter element changed every 6-9 months.
After a lot of hard work, research and development I came home to Ireland and started the Cleanwater Company.
My mission is to supply this superb filter to every household in Ireland and then all over Europe, with a lifetime guarantee and a first class after sales service and in doing so eliminating plastic waste from single use water bottles.
To date the feedback from customers has been 100% positive, please check out our Google reviews g.page/cleanwater & read client testimonials
Health and Well-Being
We are approximately 70% water
Our blood is 85% water
Health professionals say we need to drink in excess of 2 litres of water per day to remain well hydrated.
Dr. Adam Carey says "Proper hydration is vital to good health, and water is the major medium through which our bodies eliminate toxins. The purity of our drinking water is therefore of paramount importance."
What Are Your Options?
Do nothing and drink tap water
Quality is highly variable: it comes from multiple sources.
It has variable levels of contamination.
It is treated with chemicals.
Irish tap water supplies regularly breach EU quality standards.
Full of unwanted particles.
Vegetables lose nutrients when cooked in tap water.
It has to travel through old and in some cases lead pipes before it reaches your tap.
Lead can leach in from lead pipes in older houses and lead solder used to join pipes in newer house.
Even very small quantities of lead are harmful.
Tap water does not generally have a pleasant taste or odour.
Bottled Water
It is extremely expensive (more expensive than petrol) mainly due to packaging and transport.
It has variably quality, depending on the source and the company producing it.
Once unsealed it can become a breeding ground for bacteria and algae. This is a common problem with office water coolers, especially if they are in direct sunlight.
Plastic bottles are bad for the environment, they take 450 years to decompose and they are polluting our oceans
By definition, Bottled water is not CleanWater on tap!
History of the Royal Doulton Ceramic Filter
"Offensive to the sight, disgusting to the imagination and destructive to the health.
This was how London drinking water, which was drawn from the Thames, was described in a pamphlet published in 1827. The Thames was heavily contaminated with raw sewage; cholera and typhoid epidemics were rampant. Doulton were perfectly placed along the river Thames to deal with these problems 1835 Queen Victoria recognized the health dangers in her drinking water and commissioned Doulton to produce a water filter for the Royal household.
In consideration of her pleasure with the new device, Queen Victoria bestowed upon Doulton the right to embellish each of its units with the ROYAL CREST.
She was so happy with her filter Henry Doulton was knighted in 1877.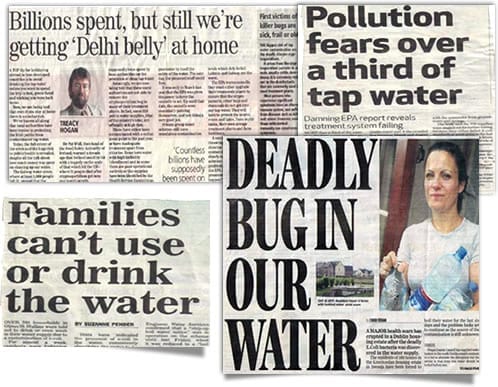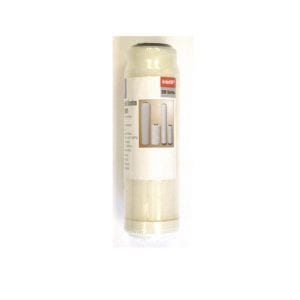 Quick View
Replacement Fluoride Filter
Although the main purpose of this filter is to remove fluoride activated alumina can remove many other contaminates.

Reduces/Removes:
FLUORIDE
HYDROGEN CHLORIDE
HYDROGEN SULFIDE
CARBONYL SULFIDE
CARBON DIOXIDE
INGORANIC ARSENIC
ALCOHOLS
ETHERS
Replacement Fluoride Filter Specs:
Dimensions: 10"X2.5"
Weight: 2Lbs
Operation Temp: 40F-100F
Filter Life: 4,500MG/L OR 260 GPG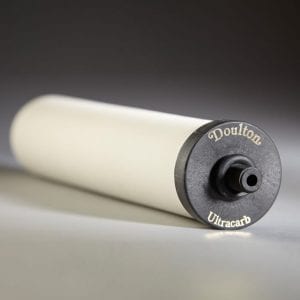 Quick View
Replacement Filter – UltraCarb
Ultracarb replacement filter - the Supercarb has been discontinued so this more effective filter has replaced it.
Pathogenic bacteria: Cholera, Typhoid, Shigella, E. Coli, Klebsiella Terrigena >99.99% removal
Cysts: Cryptosporidium Parvum, Giardia Lamblia >99.99% removal
Sediment: Down to 0.9 micron absolute; 0.5 - 0.8 micron with a filtration efficiency of >99.99%
Trace Organics Removal - Insecticides: Lindane @ 0.1 ppb presence >85% removal
Trace Organics Removal - Herbicides: Atrazine @ 1.2 ppb presence >85% removal
Trace Organics Removal - Phenols: TCP @ 1.2 ppb presence >50% removal
Trace Organics Removal - Polyaromatic Hydrocarbons: PAH's @ 0.2 ppb presence >95% removal
Trace Organics Removal - Trihalomethanes: Chloroform @ 150 ppb presence >50% removal
Inorganics Removal - Free Chlorine: 2mg cl/l challenge >97% removal NSF Class 1 standard 42
Lead removal - 98.3% NSF Standard 53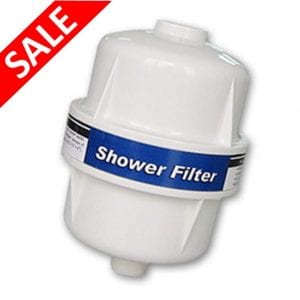 Quick View
Cleanwater Inline Shower Filter
This product is ideal for people wishing to shower in better water for their skin and hair to remove the dryness and irritation caused by chlorine and other chemicals in mains tap water.
Supplied with two elbow shaped adaptors, this fantastic shower filter unit can easily attach to virtually any bath or shower in seconds enabling you to keep your existing shower head and have the filtration occur in-line.
There is a replaceable filter component inside the shower filter casing which can be easily removed and replaced in seconds. You can add replacement filters to your order by selecting the options above. The filter lasts for approximately 5 months in a two person home.
The shower filter has consistently shown to help alleviate bad reactions to chlorine making it ideal for people with sensitive skin, including people with eczema, psoriasis and dry skin conditions. For people without these conditions, the shower filter leaves you with a moisturised feeling after showering by protecting your skin and hair from the oxidant elements in tap water, preserving the skins natural proteins.
A unique feature of shower filter is the removable cartridge system, enabling you to easy change the internal filter.
This shower filter provides an effective media to remove chlorine in high temperature shower water for chlorine free showers. Fitting is ever-so simple and almost as easy as screwing on a light bulb!
 Promotes healthier skin, hair and scalp
 Can be easily fitted on any existing hose connection in seconds.
 Reduces up to 99.99% of chlorine
 Assist in eliminating dry skin, flaky scalp, dandruff, and fading coloured hair
 Reduces chemical absorption and vapour inhalation
 Reduces the harmful build-up of limescale which clogs up shower heads
 Reduces up to 98% of water soluble heavy metals
 Less damage to hair and skin
Cleanwater Inline Shower Filter - More Info
Approximate Dimensions
Length: 11 cm
Diameter: 9 cm
Elbows: 5 cm x 4.5 cm
Working Parameters
Temperature: between 4°C and 60°C
Maximum Pressure: 6 KG/cm2
Maximum flow for optimum filtration: 3.78 litres per minute
Body Material: ABS
The internal replaceable filter cartridge will last for approximately 5 months in a two person home. This is based on compliant water quality within the UK.
The shower filter uses natural coconut shell carbon and the patented KDF copper-zinc alloy, which both provide the most effective media there is to remove chlorine in high temperature shower water.
KDF's performance actually improves the higher the water temperature.
With this technology, our filter has been shown to effectively remove 97+% of this damaging chlorine, for up to 1 full year (for 2 people) - 2 to 3 times longer than other shower filters.
KDF can also remove iron and other heavy metals, sulphur, and it controls the mould and mildew in your shower.
This KDF Shower Filter installs in minutes, with no tools on any shower arm with standard 1/2" pipe threads. Simply unscrew your shower head from the shower arm, attach your shower head to the end of the filter, and install the filter on the shower arm. It's as easy as screwing on a light bulb!
Product Benefits:
Chlorine can have a strong odour (swimming pool smell) and can cause irritation to skin and to the scalp, especially to those people with skin conditions like psoriasis and eczema.
The body of the Shower Filter is guaranteed not to rust or corrode. The time between changes is dependent on the amount of water used and the amount of chlorine or other ingredients in the water. As a rough guide, the Shower Filter will need changing every 6-12 months. We will also send you reminders of when they are due every 6 months.