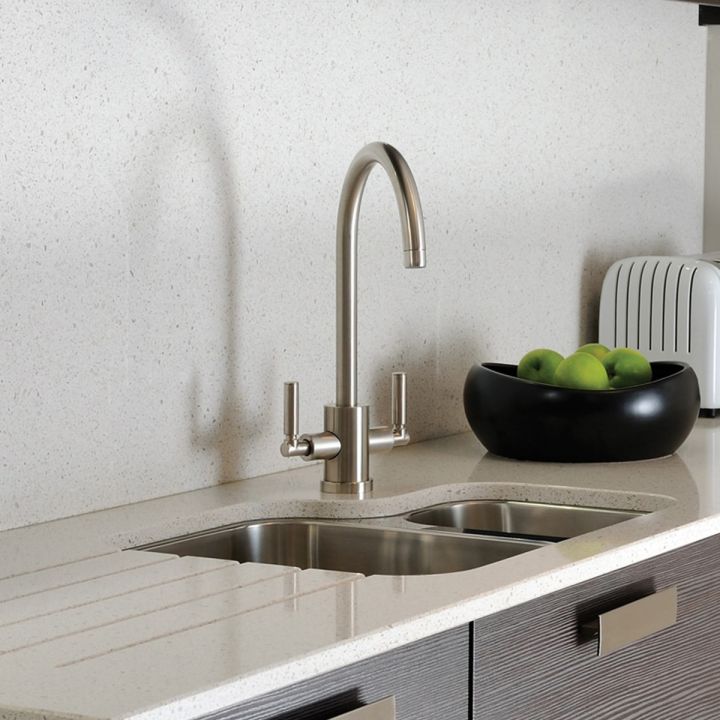 30 Mar

3 way tap (triflow) or 4 way tap (boiling and filtered)

Here at Clean Water HQ we stock a lovely range of high quality Italian 3 way (tri-flow) taps and we have 15 years experience of installing these around Dublin and supplying them nationwide. These taps replace your existing tap so there is no need for a separate filter tap and for the drilling of extra holes in your countertop or on your sink. These taps supply hot, cold and purified water with the purified water being delivered by an independent line to avoid mixing with unfiltered hot and cold water tap water.

You will never have to buy bottled water again as you will have great tasting filtered water on tap.

Clean Water 3 way taps start from 270 euro for tap only or 450 euro with a Cleanwater original filtration system supply only.

Shop our 3 way taps here.

More recently we have introduced our Cleanwater Hot Tap

These convenient taps dispense your normal hot and cold on one level and the other lever on the left provides filtered cold water and instant filtered boiling water. So no need for a kettle and no need to buy bottled water anymore.

Instant boiling water allows you to make tea, coffee, and all your hot drinks. You can fill large pans with filtered, boiling water to cook pasta, couscous, noodles, and rice; make instant porridge and soups, blanch and prepare vegetables; sterilise baby bottles and de-grease baking trays – in no time at all.